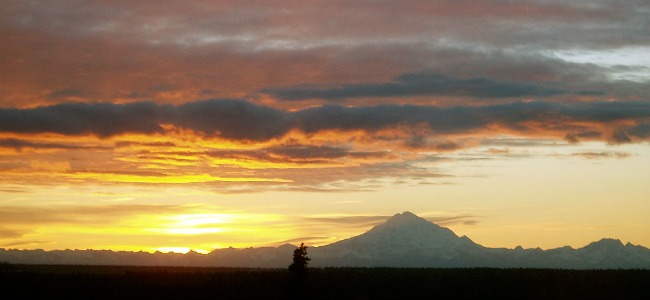 Nikiski / North Kenai is a beautiful sprawling town of just over 4,000. Located at the end of the Kenai Spur Highway just 13 miles north of Kenai. This oil rich community has breathtaking views of the Cook Inlet. The town is quite spread out and many home owners live with lots of privacy. The town has also been known as Port Nikiski and Nikishka.
Economy: Oil was discovered on the Cook Inlet in 1957 and has been the largest industry since. The industrial footprint is largely compromised with off-shore oil rigs and on-shore wells, distribution, oil and fertilizer refinery facilities and the many supporting service companies. The oil and gas industry is the leading employer for North Kenai. The second largest industry is a mix of commercial, set-net and sport fisheries. The east bank of the Cook Inlet has numerous set-net sites
Education: There are a few schooling options, North Star Elementary, Nikiski Middle and Nikiski High School. There are many families that also choose to homeschool their children.
Parks/Quality of Life: Nikiski has a lot to offer for the outdoor recreational pursuits, the Captain Cook State Recreation site is a great place for virtually all of your favorite activities. The recreation area is 3,466 acres and boasts amazing fishing, ample camping, and designated four-wheeling areas. It is also the launch point for many remote cabins and trails access via the beach and the gas line trail. The Swanson River is a main popular attraction for float trips and great fishing! The canoe trail starts in Sterling and takes out at Captain Cook Park.
The Nikiski community recreation area is a very popular destination that features an indoor pool with hot tubs, and a huge water slide. The recreation area also has a gym, racquetball courts, ice rink, indoor golf simulator and a soccer field and running trails. If you work in the oil industry or just looking for a great place to live Nikiski is a great place to look!