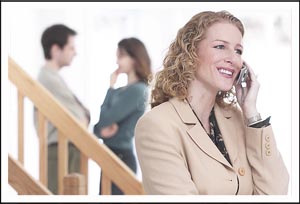 Comparative Market Analysis
A written report of the transactions in the neighborhood to identify similar properties that has sold recently and is currently on the market in an effort to determine a realistic price for the subject property.
Market Preparation
Improving the condition of the home, "setting the stage" before showings, and knowing what to do when the property is being shown are just a few of the things that will help maximize the marketing efforts. We'll take time to examine your home and explore the alternatives to showcase your property.
Homeowner's Analysis
This is a report that illustrates the tax advantages and the investment potential of home ownership. It demonstrates how the tax savings from the interest and property tax deductions will reduce the impact of a house payment. The investment results from anticipated appreciation and reduction in the unpaid balance through loan amortization.
Special Services
If you have to vacate the property prior to selling, special services can be arranged to help you with your specific needs such as: collecting the mail, removing advertisements, maintaining the yard, turning off the lights at night, setting the security or sprinkler systems, or other tasks.
Financing Alternatives
Attractive financing can actually shorten the marketing time and increase the sales price. I stay up-to-date with the types of mortgages that are available and maintain business relationships with mortgage professionals to provide choices. Some of the reports that I can supply you include: buyer qualifications, 80-10-10 mortgage, 75-15-5 mortgage, 15- year vs. 30-year mortgage, Adjustable Rate vs. Fixed Rate mortgages, rent vs. own, and repurchase analysis. These will help buyers and sellers make better decisions.
FNMA approved loan programs

Adjustable Rate
Community Solutions
Energy Efficient Mortgage
Expanded Approval with Timely Payment

RewardsSM

Fixed-Period ARM
MyCommunityMortgageSM
One-Year ARM
One-Year LIBOR-Indexed ARM
Pledged-Asset Mortgage
Six-Month ARM
Six-Month LIBOR-Indexed ARM
Two-Step® Mortgage
Balloon

Employer-Assisted Housing

Fixed Rate
15 Year
20 Year
30 Year
Biweekly Mortgage
Community Solutions
Energy Efficient Mortgage
Expanded Approval with Timely Payment

RewardsSM

Fannie 3/2SM
Fannie 97®
HomeChoiceSM
InterestFirstSM
MyCommunityMortgageSM
Native American Housing Loans
Pledged-Asset Mortgage
Rural Housing Loans
Simultaneous Seconds Mortgage

Home Construction & Renovation

Energy Efficient Mortgage
HomeStyle® Construction-to-Permanent Mortgage
HomeStyle® Renovation Mortgage

No/Low Down Payment

Community Solutions
Energy Efficient Mortgage
Fannie 3/2SM
Fannie 97®
Fannie Mae's Community Home Buyers

ProgramSM

Flexible 100SM
Flexible 97®
MyCommunityMortgageSM

Reverse Mortgages for Seniors

HUD's Home Equity Conversion Mortgage
Home Keeper®
Home Keeper for Home Purchase

Special Financing

Loans for People with Disabilities
Native American Loans
Rural Housing Loans

HUD FHA loan

Fixed Rate Mortgage
Adjustable Rate Mortgage
Graduated Payment Mortgage
Growing Equity Mortgage
Rehabilitation Mortgages
Energy Efficient Mortgages
Mortgages for Condominium Units

HUD Insured Loans for Disaster Victims
HUD Insured Reverse Mortgages for Elderly Homeowners
VA approved loan programs
Buyers may be unwilling to discuss their actual situation with a seller because of their opposing objectives. The buyer is trying to get the home for the lowest price and the seller is obviously, trying to get the highest price. Buyers may feel that they are giving away their advantage in the negotiation process by letting the seller know personal things. Solutions that might be best for the buyer may not be good for the seller because of the costs associated with different packages. It is valuable to have someone who is familiar with various mortgages to guide the parties involved
When a seller enters into a listing agreement with a real estate agent, a legal relationship called agency is created. This requires that the agent put the seller's interest above their own interest. The duties required include loyalty, obedience, disclosure, confidentiality, accounting in dealings and reasonable skill and care.
Buyers can obtain this same type of representation by entering into a buyer agency agreement. The advantage is that they will have a professional looking after their interests in an investment that will most likely be the largest that they have made. Considering the advantages of having a professional represent you.