BISHOPS CREEK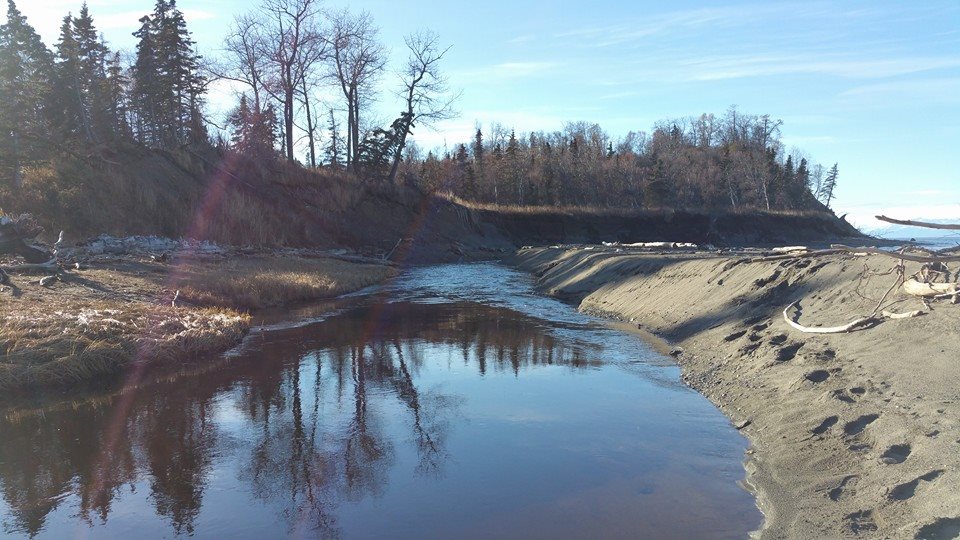 If you have never been to Bishop's Creek then here's why you should go.
Kraig and I woke up one morning and decided we wanted to go fishing.  I had been eyeing up Stormy lake for a while because I had heard there was some pretty good fishing there.  So we loaded up the raft, fishing poles and a cooler full of food and made our way to Nikiski.  It was a beautiful fall day, the leaves were bright red orange, and the air was crisp.  The drive alone made the trip worthwhile.  We were just pulling off the highway and realized the lake was closed.  Apparently the lake had been closed off because they were in the process of killing off the pike (which is one of the reasons we wanted to fish there).  We then turned around and headed back towards Nikiski, and noticed a turn off called Bishops Creek.  With nothing else to do we pulled in and started walking down the trail.  About a half mile later the trail opened up to Bishops Creek flowing into the ocean.  It is by far one the coolest beaches I have ever been to.  It was very secluded and private feeling which is very unusual for a beach on the Kenai Peninsula.  There were public restrooms and picnic tables right on the beach, which was nice.

One year later…
At about 4 o'clock in the afternoon we went and picked up a small grill, some cheeseburgers and cheddar bratwurst and went out to have a small BBQ on the beach in Nikiski. The weather was just right and there was an amazing sunset. The tide came in pretty fast so we had to recede back to the ridge above. Made for a really nice picnic and is an easy place to get to even last minute.  I highly recommend anyone to check out this hidden beach on the Kenai Peninsula.