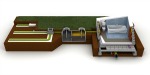 Alaska Septic Systems are pretty basic but it is amazing how many times they need to be replaced prematurely. If you would like to maintain your Alaska septic system in working order take note.
What not to put into your septic system:
Excessive Water – Make sure none of your sink or toilet fixtures are leaking.  I recently bought a home where the former owner had to replace the drainage field. The system was halfway through it's estimated life. What I discovered after moving in was the master bath toilet never stopped filling and the handle had to be manually lifted after each flush.  I replaced it. Have you checked yours?
Food – Your garbage disposal is not your friend. Place a screen in the sink basis to catch all the solids and empty into the trash or compost.
Fat, Grease or Oil – Empty used cooking oils, roasting tray, slow cookers and fryers into the trash. Keep a grease jar handy.
RV Waste – dumping your RV tank into your household system will automatically over fill the holding tank and cause solids to move into the drainage field.  One of the fastest ways to kill your septic system.
Tide Powder Detergent – The only detergent that the rumor mill gives a hard time is powdered Tide.
Significant Amounts of Cleaning Chemicals – use household cleaners in moderation, excessive cleaning and flushing of household cleaners will ruin your drainage field, not to mention your drinking water.
Coffee Grinds – The grinds do not breakdown or decompose quickly and move throughout the drainage field clogging the drain hole in the pipe.
Kitty Litter – REALLY PEOPLE! Cat Litter is made of clay.
Cigarette Butts – As if lung cancer is not enough, now you want to back up your poop.
Disposable Diapers – Flushable diapers are for city sewers only. NOT septic systems
Baby Wipers – Flushable wipes are for city sewers only. NOT septic systems
Paper Towels – Paper towels are designed to hold water, not dissolve in water.
Feminine Hygiene Products – You might as well start saving $200 a month, a replacement field will cost you $6,000 to $7,000, if you are lucky.
Hazardous Chemicals
The primary purpose of a septic system is to protect ground water. Chances are that if you have a septic you have a well on the same lot. Use common sense and don't flush hazardous chemicals, such as:
Paints
Paint thinners
Medications
Pesticides
Varnishes
Waste oils
The State of Alaska DEC has a fairly good site on Alaska Septic systems including a list of certified installers.