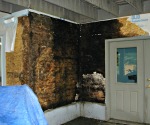 The purchase of a Kenai home is expensive. Protect yourself with a home inspection. Before purchasing, it is always a good idea to have a Kenai home inspector conduct an independent and objective review of the major systems of the Kenai home. A Kenai home inspection is a visual examination of the physical structure and systems of a Kenai home, from the roof to the foundation. Having a Kenai home inspected is like giving it a physical check-up.
The home inspector will review the condition of the Kenai home's heating system, interior plumbing and electrical systems; the roof, attic, and visible insulation; walls, ceilings, floors, windows and doors; the foundation, basement and visible structure.  The home inspector provides a written report on the conditions of these systems and alerts the purchaser to problems with the home so the purchaser can make an educated decision about buying the Kenai home.
It is always recommended that a Kenai home buyer accompany the inspector.  This allows the purchaser to observe the inspector, ask questions about the condition of the home, how its systems work, and how to maintain them.  After the purchaser has seen the property with the inspector, the written report is much easier to understand. The inspector should be available after the inspection is over for questions pertaining to the house.  A home inspection is a great way to learn about a property, helps protect a home buyer from  surprises after the purchase.
About The Author:
Robert Moss is a senior home inspector with Wisdom and Associates, Inc.. Robert has accumulated a wealth of knowledge with 13 years of Kenai home inspection experience. Follow Rob at google+ or email: robert@akinspections.com