Custom Kenai home in desirable River Hills subdivision. Affordable luxury is the reason to consider Kenai real estate as the best value for your dollar. This charming home was built in 2002 and shows like new. What I like most is the home's easy living floor plan with open concept  living and dining room.  I don't often say that a home has good energy but this home's flow  is possibly one of the best that I have toured.  The kitchen is at the home's center and has a half circle hallway behind it with access to the three bedrooms, laundry room, storage and garage. The other half of the circle is open to the living room and dining area.

The kitchen is large with a tiled dining area and built in storage for china.  Adjacent to the entry is a private sitting room.  The two bedrooms are of good size and share a hall bath.  The master bedroom is located at the rear of the home with a large walk in closet, two sink vanity, Jacuzzi tub and separate toilet and shower.  The men will love the large two car garage and extra third bay with high ceilings.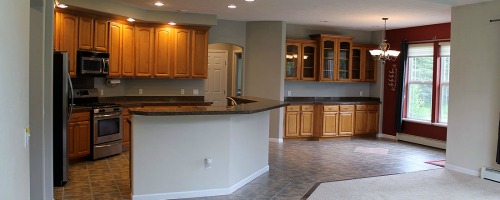 Located in River Hills subdivision off Ciechanski Rd you have a great location between Kenai and Soldotna, on K-Beach road.  The area is a popular bedroom community  with convenient access to the Red Diamond Center and shopping. Both Safeway grocers are within ten minutes of your doorstep. The local school are K-Beach Elementary School, Kenai Middle and Kenai Central High School is your home to the Kardinals. The private Grace Lutheran School is close at hand as is the a quality daycare Little People Early Learning Center.
For more information please contact Glenda Feeken, RE/MAX of the Peninsula 907 252 2743.