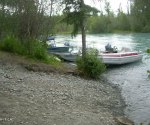 On the river the ice is breaking up and taking a few unrealistic expectations with it. Lets take a look back at Kenai River real estate and homes for sale from January 1 to April 23, 2013. Five Kenai River homes have sold to date in 2013 and there are 34 actively for sale. In all of 2012 15 Kenai River properties sold. We can justifiably say we are off to a marvelous start in 2013. 
But hold up, lets look at the pricing. One Kenai River home sold for $5,000 more than it did less than 2 years ago. Another sold for $119,000 less than it was listed for in 2011, and a 3rd property sold for $134,000 less than it was listed for . At the time this post was written there are two river homes pending in the $300,000 to $350,000 range. As you can see, Kenai River real estate is making a market correction, if it is truly interested in selling. Kenai River real estate is not worth what is used to be. 
Some of the homes have been on a listing marathon. I can see one has been on the market since 2008, another since 2009, couple of 2010's and a large group of homes listed between 2011 and 2012. My favorite was listed in 04, 05, 06, 07,09, 10,12. Don't be discouraged folks, this just means the price of this home has not reached market level or market level has refused to reach the price of the home.
Regardless, we are seeing more homes make a market correction in pricing. I watched one current listing make a $600,000 correction-price reduction and another drop $620,000. With this said it is beginning to look like we are reaching an awareness in the market about where properties will sell. That it takes more than a river front lot, it takes a price that reflects the correct value for location, age and condition.
Buyers are no longer in love with just the river.  With an average sales price $100,000 to $350,000 over the area average, the homes need to sell themselves as much as the location.  Particularly if the homeowner can't fish because of river closures. Buyers expectations far exceed mistakes like "expensive" listings with formica counter tops and the laundry in the kitchen which is next to the front door. If this is your thing, the home is still for sale.
Sale Volume & Price
(1) 500-550,000
(2) 450-499,000
(1) 300-350,000
(1) 200,000-250,000
(1) 199,000-150,000